+91 9434247625, +91 9434716901, +91 353 2776390, +91 9434258191
tps.chatterjee@gmail.com
News & Announcement
REPORT
Almost for an hour he spoke at length on the new syllabus of history, which is being introduced by the NCERT in schools shortly. According to him under new syllabus many historical facts are missing, particularly achievements made during the medieval period. This makes the entire reading of history lopsided, and the students would not be able to know all the facts related to this period. This is tantamount to injustice both to the students as well as to history writing. In this respect he quoted an example of Kalhan's Rajtarangini, the most authenticated chronical history of Kashmir, written particularly from the point of view of narrative techniques, only throwing the bare facts and leaving the judgemental part on the shoulders of the readers. He said that history has to be produced as it is without any additions or alterations, and that only makes the history true in its concept.
On the whole it was his view, a historian must take a detached view of every incident, for him there should not be any place for sentiments, he would simply narrate the facts, for sentiments makes a historian choosy as well as prejudiced and that is what happening today in writing the history of India anew. This trend is not commensurate with the historical writing, since most of the relevant facts would be missed out, and in the process the readers are deprived of their rights to form their own conclusions. Therefore, in his opinion, history should draw a realistic picture discussing all momentous events and so that every period could be looked upon in true perspective.
In course of discussion he also raised an issue of the Aryans migration. Though he said probably they came from Asia Minor, yet he finally left this conclusion to further research since Hitler also claimed he belonged to pure Aryan blood and also adopted Swastik as the symbol of his Nazi Government.
History, for him is no respecter of any particular person, race or community, it simply puts up the reality before the reader, and thus, is always pure and accordingly should remain unbiased.
Mr Fazlur Rahman, the NBUAA Secretary initiated the discussion in brief and handed the mike to the President of the Association Dr Tapas Kumar Chatterjee to further proceed and coordinate. A brief introduction of Prof Habib was beautifully given by Emeritus Professor of North Bengal University, Ananda Gopal Ghosh.
The discussion was highly lively and participants were also more than hundred, and after the discussion queries were put up by a few participants, the answer of Prof Habib to such queries immensely satisfied everybody.
And in the end the vote of thanks was delivered by a teacher of Presidency University Professor Tanwir Arshad.
https://meet.google.com/mvv-nrwq-fkr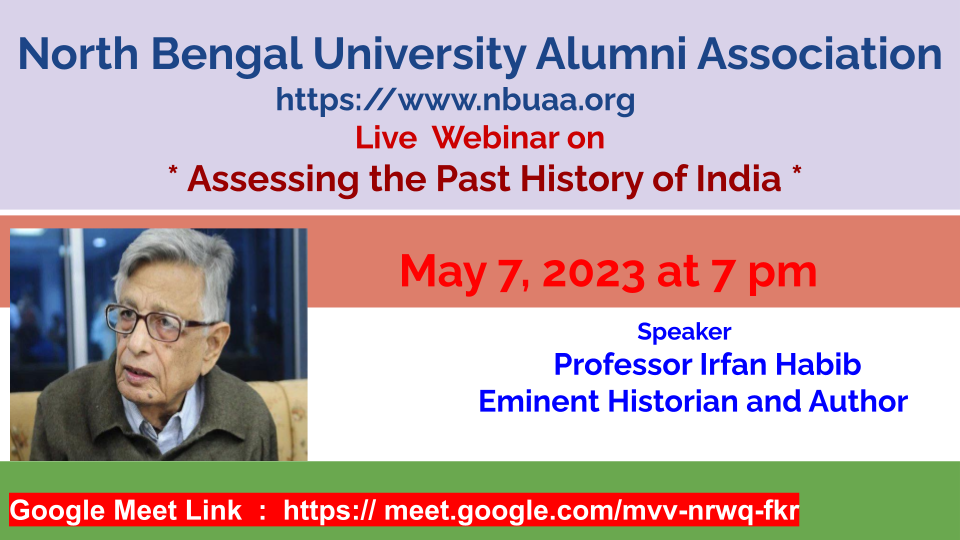 Posted on: Friday, 12th May 2023